inPowerSuite® support flexible shopping arrangements including direct to consumer (b2c), member's only (b2b), and party guest orders (b2b2c).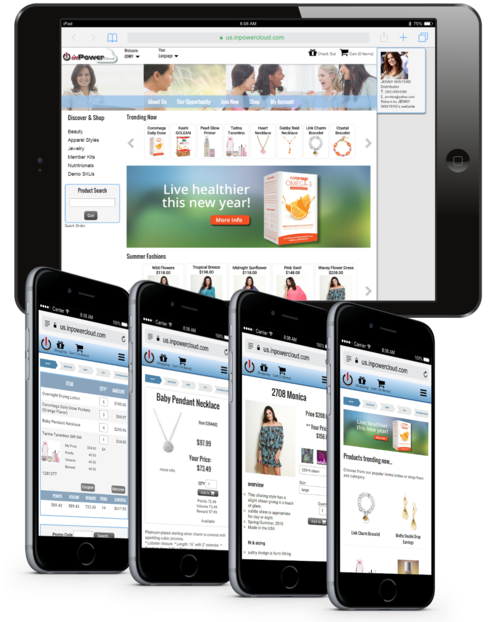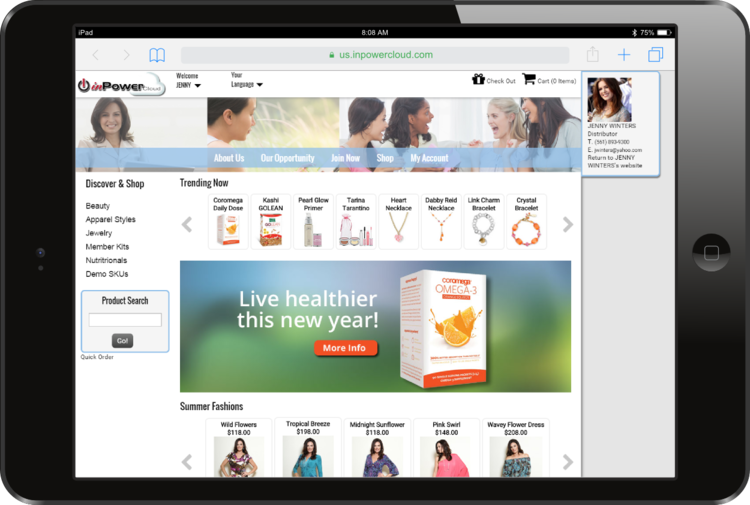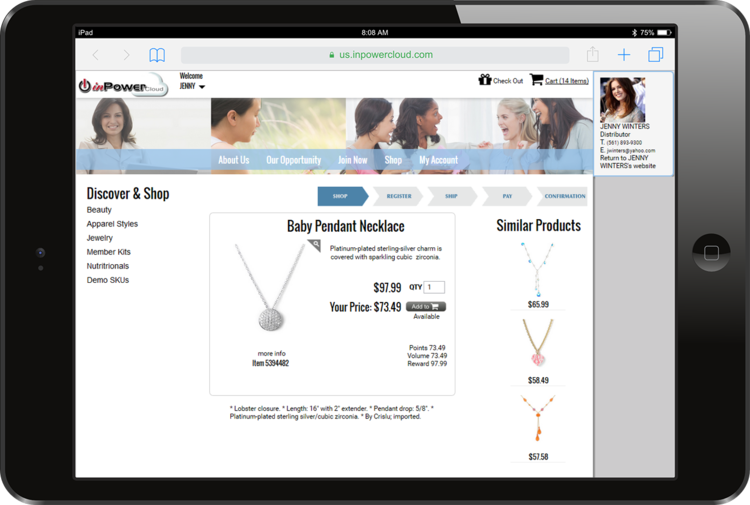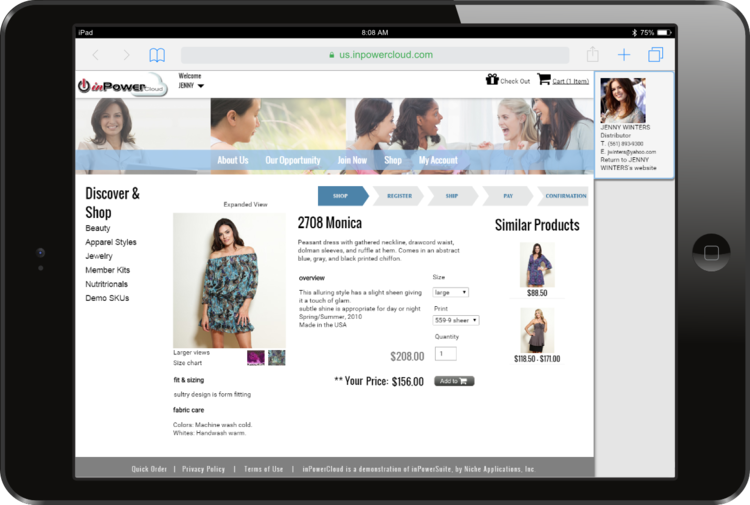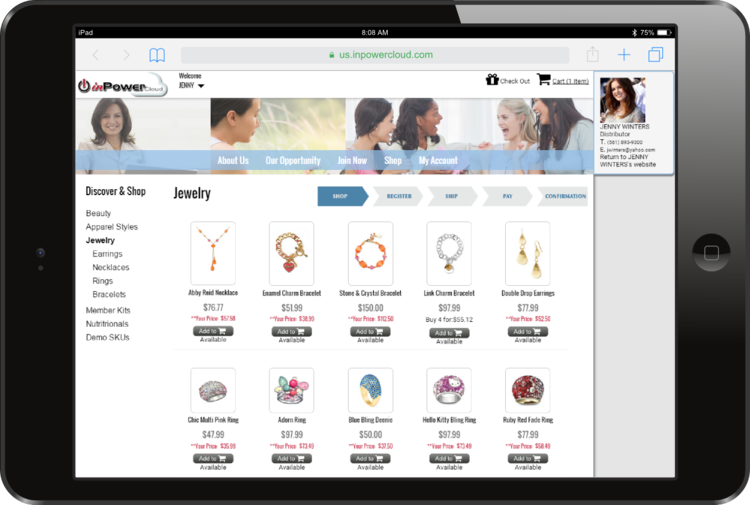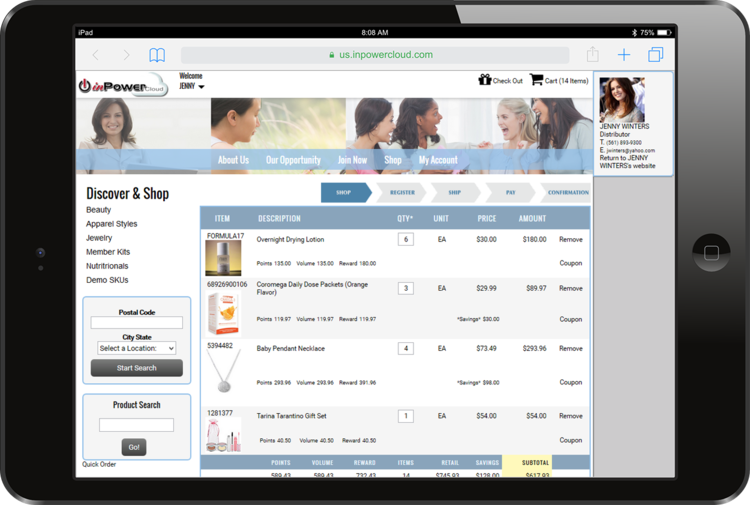 • Flexible product categorization and display styles
• Flexible merchandising arrangements for poduct offers (BOGOs), mix and match items, style-color-size items, products kits, product bundles, volume-pricing, up-sells, and back-order arrangements
• Multiple order entry modes including quick order, express checkout, autoship, party, poit of sale and member application enrollment via web and mobile platforms.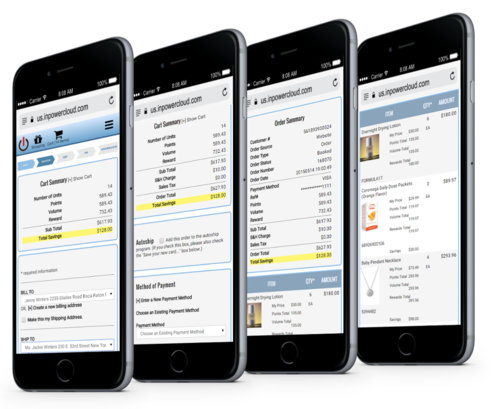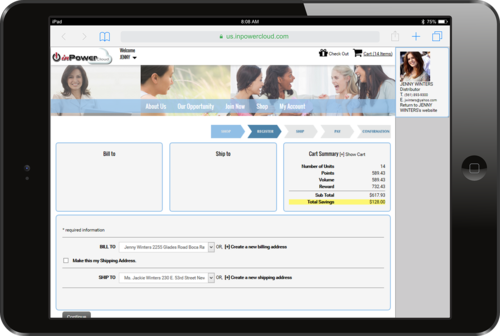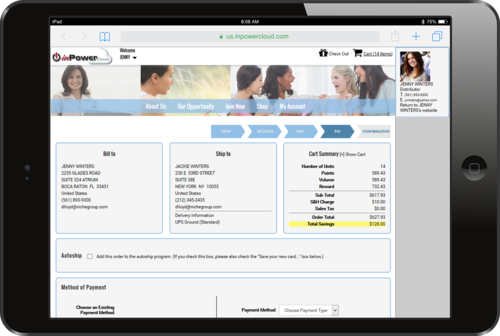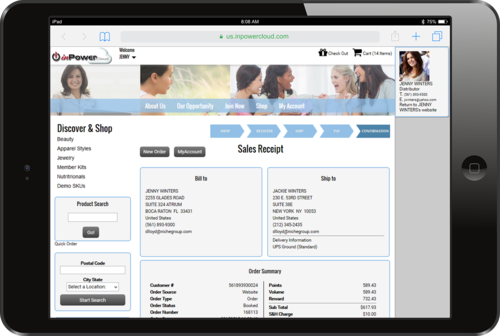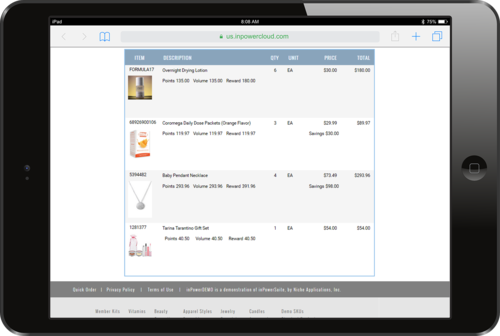 Order Checkout Options...
• Express order checkout
• New customer and new member checkout
• Real-time address validation, sales tax look-up and payment
• Auto-responders for order confirmation, customer and member welcome letters, and up-line notifications
Autoship-Continuity Ordering
• Configurable products and blackout datest
• Autoship discounts
• Continuity ordering and multi-frequency reordering
• Autoship queues and batching
• Credit card declination auto-responder notifications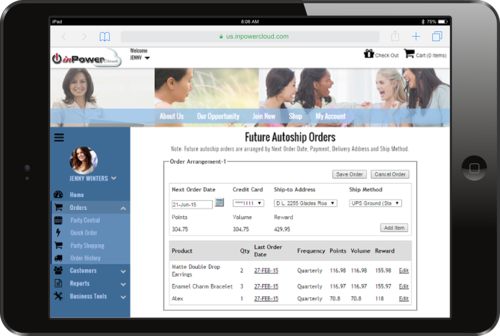 inPowerSuite® provides powerful tools for members to create personalized websites and promote products and business opportunities.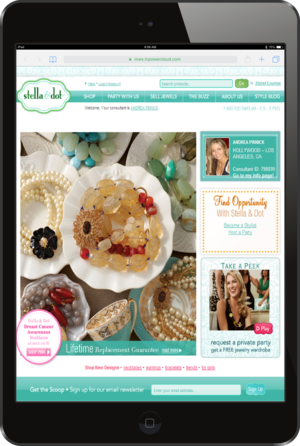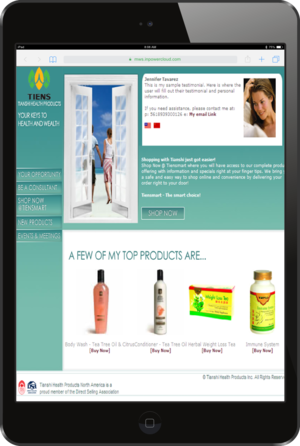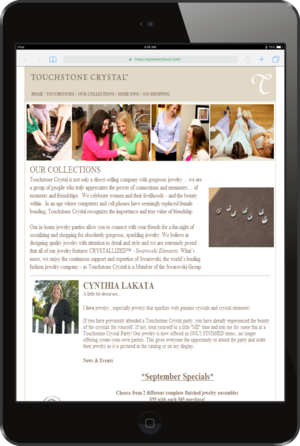 Visitors to personal websites are tagged to provide the website owner with lead-protection, such that the member gains valuable customer leads, earns volume from product orders, and becomes the sponsor of new applicants who join the business.
Simple Website Signup Process
Members are allowed to subscribe to their company's approved personal websites from the member's business portal.
Website Compliance Monitor
Simple tools for members to create and maintain unlimited websites under the umbrella of the company.
A rich selection of multi-lingual website templates.
Tools to manage personal content (i.e. images, biography, personal and product testimonies, meta-tags (for search engines) and more.
Company users have the ability to monitor websites, preview, reject or publish site changes initiated by members. Additionally content filters can be configured to screen illicit words and phrases in the personal websites.
inPowerSuite® provides personalized electronic notifications to website owners and company staff based on a variety of website events and activities.
Module for sales rep to plan and manage parties for multiple party types.
Features:
Multiple auto-responders by party type including public parties.
Rules driven host rewards
Easy to manage party schedule
Host and guest e-vites per party type
Host portlet for managing guest list
RSVP/attendance tracking and follow-up auto-responders
Configurable shipping / payment rules
Multiple order types for pre-party / party / hostess rewards and settling orders
Capture future bookings
Cash out or bank retail earnings at party settlement
Multiple party shipments, and reports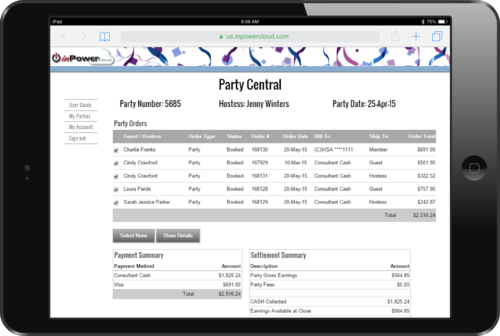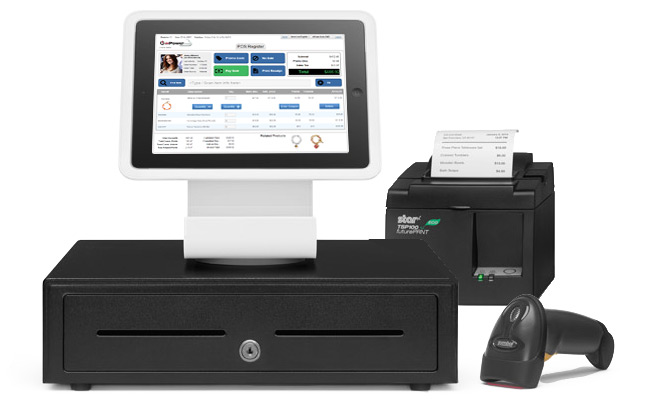 Mobile ready solution built for tablet devices to perform floor/counter sales and exchanges.
Features:
Transact sales directly on floor by credit card
Lookup customers and referrers while ordering
Apply multiple discounts including coupons, promo codes and offers
Print or email order confirmation
Integrates with cash drawer, card reader, wireless scanner and receipt printer
Cash drawer management and end of day reports
Requires additional POS equipment.
inPowerSuite® provides a comprehensive and customizable member enrollment module for self-serve and up-line initiated new member sign-ups
Features:
Custom fields
Sponsor lookup (multi-country ready)
Multiple products and kits
Flexible payment options
Downloadable terms and conditions
Welcome letter and up-line notifications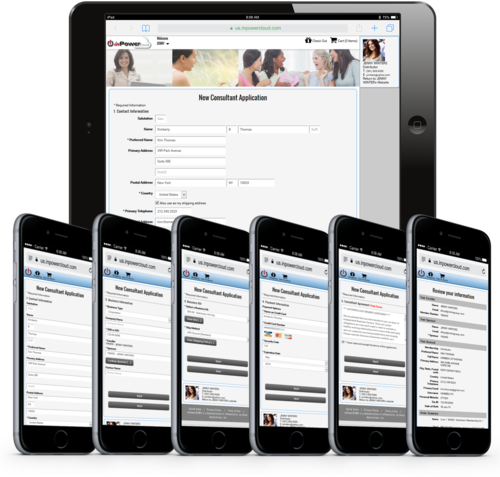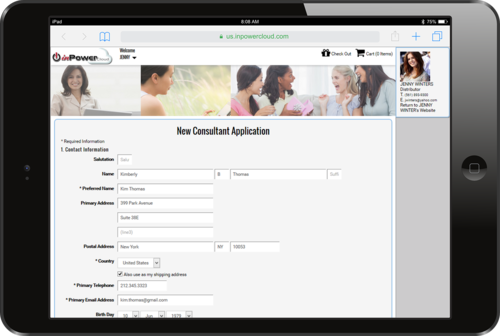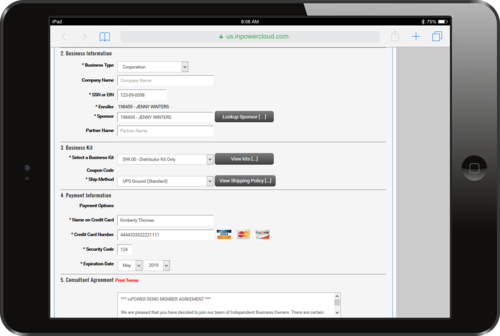 Business portal
(User Back-Office)
inPowerSuite® provides secured access to an extensive set of information portlets, business tools, reports and content by customer type.
inPowerSuite® provides configurable, visually stunning and easy-to-use dashboards by customer type.
Features:
Collapsible menu system for managing orders, customers, business tools, reports, profile and dozens of collapsible portlets with:
Multiple sales goals by period
Time sensitive announcements, news, guides, and more
Video carousel
Multiple performance indicators (KPIs).
Calendar with multiple events per party
Multiple banners and recognition portlets for Top -Sales, -Earners, -Promotions, and more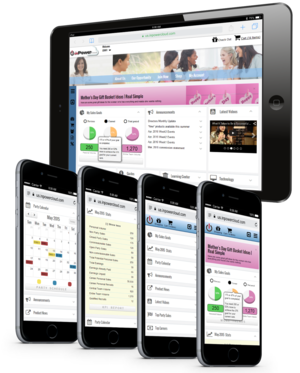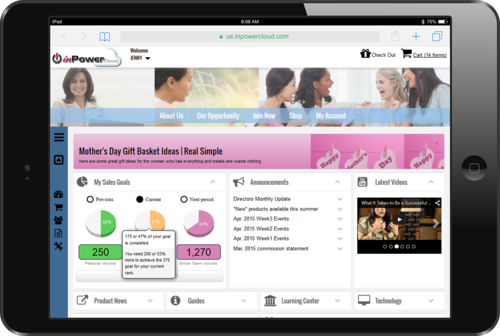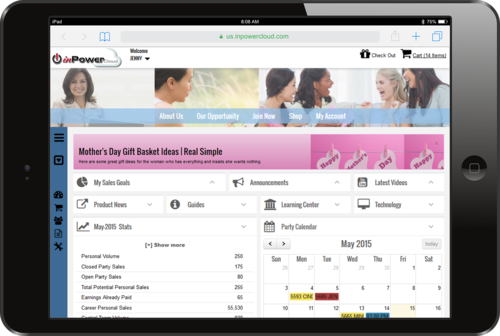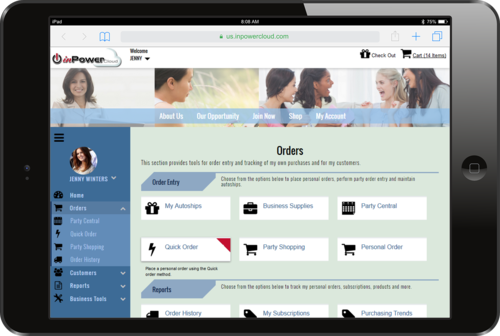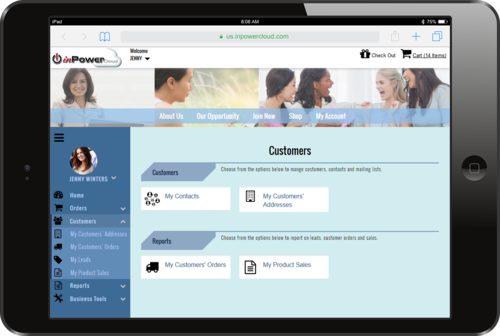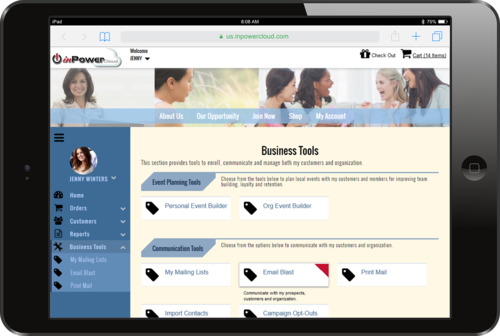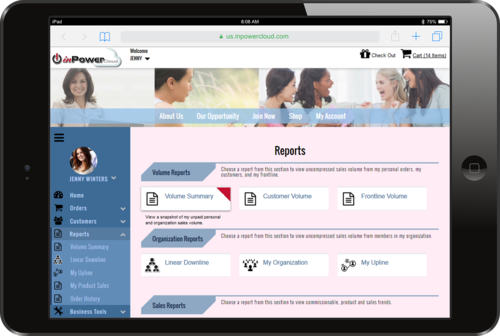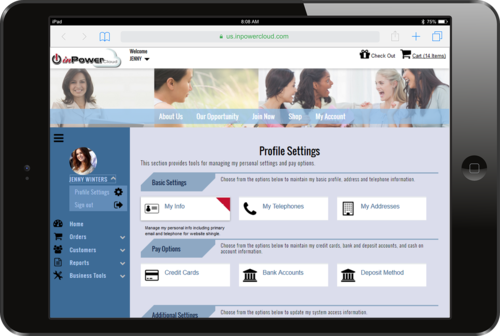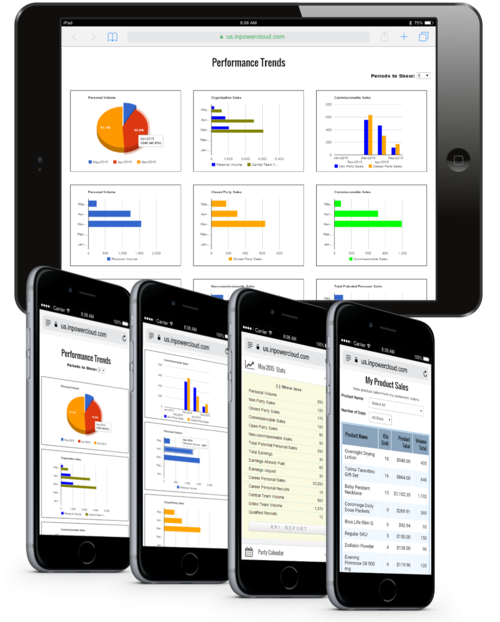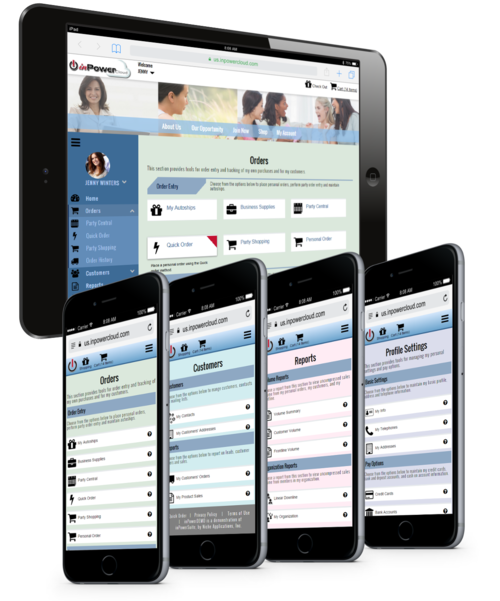 SALES, GENEALOGY AND COMMISSION REPORTS
Reports for sales by frontline, customer, product and party.
Dozens of configurable Google charts by data point, colors and chart types and options.
Graphical and linear genealogy views
Commission activity statements